A few days ago, the final awards of the 2022 Guangdong-Hong Kong-Macao Greater Bay Area High-Value Patent Cultivation and Layout Competition (hereinafter referred to as "High-value Patent Competition") were successfully announced.
After 8 months of fierce competition, the "Concealed Lever Type Quick Wiring Switch Socket" jointly participated by Guangdong Futina Electrical Co., Ltd. and Foshan Nanyue Fanglue Management Consulting Co., Ltd. finally stood out and won the silver award!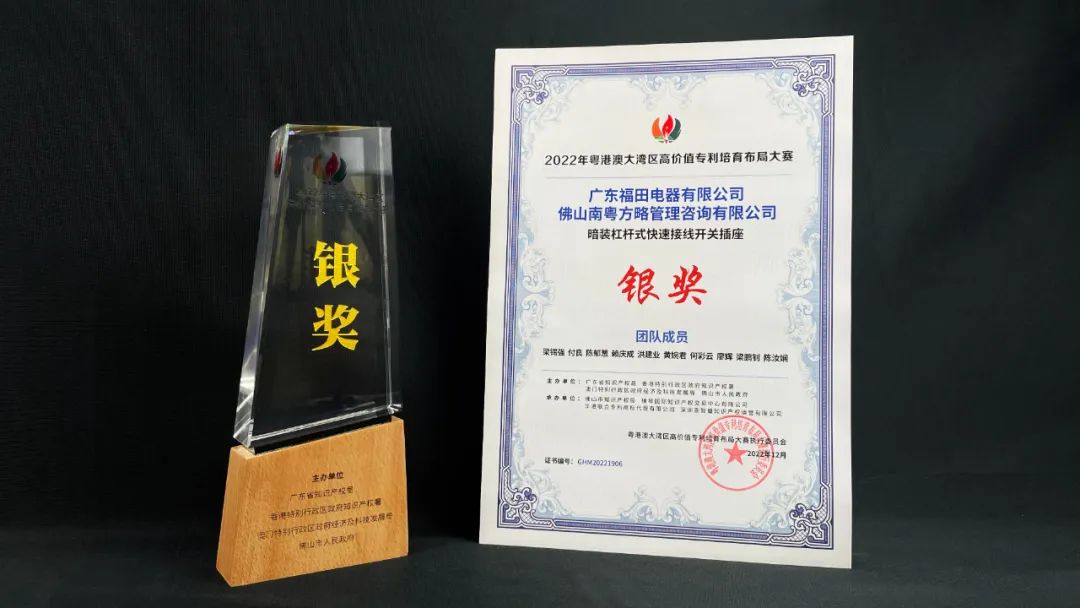 This competition is the only official patent competition organized by the governments of Guangdong, Hong Kong and Macao. It has been successfully held for four times. It is a typical case of Guangdong Province in promoting the construction of an intellectual property power and a demonstration province. A major brand event for the development of IP cooperation in the district. The competition has attracted active participation of innovative subjects such as small and medium-sized enterprises, universities, scientific research institutes, and individuals with important inventions and creations at home and abroad, covering biomedicine, artificial intelligence, high-end equipment manufacturing, new materials, energy conservation and environmental protection, new generation of information technology and many other fields.
In the final, 10 gold awards, 15 silver awards and 25 excellence awards were selected.
FUTINA's "concealed lever type quick wiring technology" has carried out a number of patent innovations around the product structure of concealed switch sockets and safety function modules. The advanced nature of the project in terms of technology, market and patent layout reflects FUTINA's industry-leading ideas and methods.
FUTINA's winning this award has strengthened the company's determination to base itself on the Guangdong-Hong Kong-Macao Greater Bay Area, focus on the global market, continue to innovate in the field of electrical engineering and lighting, strive to create more high-value patents, and be the driver of industry development, the leader of industry collaboration, and the pioneer of the development of the Bay Area!